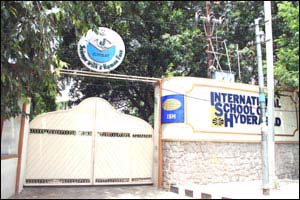 ICRISAT's long tradition of struggling with the aridity of the land made it well-equipped to counter at least the educational drought caused by the local bureaucratic inaction. So, giving up its Recreation Center at Road No. 1 Banjara Hills for ISH was perhaps the easiest task for this organization.

ISH is a school catering to the kids of the foreign officials posted in Hyderabad, and of the Indians hoping for a flight to opportunitier lands. Started in 1972 by enthusiastic parents, ISH gained the blessings of ICRISAT a decade later. The accredition to the European Council Of International Schools (ECIS), the Cambridge International Examination (CIE), the International Baccalaureate Organization (IBO) and the Council Of International Schools (CIS), and the official recognition by the UK Department of Education And Skills, followed soon enough.

ISH is sectored into a Primary School, a Secondary School, and Grades 11 and 12. The Primary School includes Kindergarten 1 and 2, and Grades 1 to 5; and the Secondary has grade 6 to 10, leading to the General Certificate Of Secondary Education (IGCSE) by the CIE. Grades 11 and 12 lead to the International Baccalaureate Diploma Program (IBDP), while a successful completion of grades 9 to 12 leads to a High School Certificate.

In addition to the internationally recognized academic syllabus, the teaching is reinforced by the workshops, field trips, visiting advisors and consultants. While focus is firmly rooted on English, Science, Maths, Arts and Computers, the children are encouraged to participate in music and sports (tennis, squash, basketball, swimming among others), and in knowing the Indian culture.

Centrally air-conditioned classrooms, a comfortable teacher-student ratio and a full medical check-up backed up by a fully operational infirmary are highlights of the school. Your child has enough energy left for an hour of after-school activities, which start at 2.40pm. The continual evaluation on the Richmond Test of Basic Skills and Cognitive Abilities, as well as the active PTA, guarantee that your little Jack is right on track - position one.
EVENTS AT INTERNATIONAL SCHOOL OF HYDERABAD
There are no events at International School Of Hyderabad scheduled currently.
LEAVE A COMMENT
fullhyd.com has 700,000+ monthly visits. Tell Hyderabad what you feel about International School Of Hyderabad!