Hyderabad Public School (Begumpet)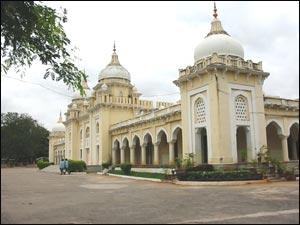 It is tough to be modest if your school was big, historical and had active alumni. Even more if we replaced the words "big" with "150 acres", "historical" with "World Heritage Site" and "active alumni" with "Akkineni Nagarjuna, Harsha Bhogle, Asaduddin Owaisi and Ashok Gajapati Raju to name a few". Add to the above, a vintage WW2 plane called Chipmunk housed on campus. Modesty would be out of the window with a big grin on its face.

Life at HPS probably beats any teenage movie you would have come across. There are as many friends to choose from, as many spots to travel around the campus and as many tricks you could play on the teachers. In fact, there is hardly one person you could come across who wouldn't know a child who is in HPS. That may sound like a bad exaggeration, but you wouldn't be surprised if you asked the Banjara Hills and Jubilee Hills crowd the same question.

There is also that sense of achievement in society to call oneself as a student of HPS. It also goes a long way in putting your listeners off. Much of it would be to the changing image of the school in the past decade or so. Cynics will brood over the days when HPS meant the best in teaching facilities and quality students, and the degradation in the complete system from these days. Cynics, as the name suggests, are usually a hated lot. So it wouldn't serve much purpose to follow their opinions blindly. But if a sensible-sounding person like a rationalist were to say the same, you could give the opinion an honest thought.

In any case, HPS will continue to remain THE Public School of our state.
HYDERABAD PUBLIC SCHOOL (BEGUMPET) SNAPSHOT
Listed In

Address

Telephone

Email

Distance

Website

Sub-Categories

Courses

Medium

Boys/Girls

Admission Criteria

Year Started

Timings

Closed On

Prices

Day Scholar: Rs. 12,000 - Rs. 19,000 (Annum)
Boarders: Rs. 32,000 - Rs. 45,000 (Annum)

Payment Option(s)

Closest Bus Stop

Closest MMTS Station

Add New Field:
EVENTS AT HYDERABAD PUBLIC SCHOOL (BEGUMPET)
There are no events at Hyderabad Public School (Begumpet) scheduled currently.
LEAVE A COMMENT
fullhyd.com has 700,000+ monthly visits. Tell Hyderabad what you feel about Hyderabad Public School (Begumpet)!