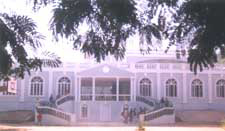 Jiddu Krishnamurthy was, to many, "a riddle wrapped in a mystery inside an enigma". Folks who have understood his message are either philosophers or school-teachers or both. Fittingly, then, Krishnamurthy's baton has been carried most visibly by schools based on his thinking.

Schools which make strong philosophical statements tend to be overly rigid in their zeal, almost to the point of being cults. Vidyaranya, based loosely on the Krishnamurthi tenets, brings a lot of the pluses of solid philosophical foundations, and none of the dogmatism that plagues so many "alternative" schools. True-believers may be disappointed to learn that Vidyaranya does not figure on the "official" list of Krishnamurthy schools, but they would do well to put a sock on that disappointment. Vidyaranya is a joy.

Set up a little over 40 years ago by Shanta Rameshwar Rao, Vidyaranya boasts of a satisfied set of parents, an enthusiastic set of teachers, and a singular, marvelous campus set bang in the heart of the city. The school personifies Rao (who is also, by the way, one of India's best writers) in more ways than one. The curriculum, the teaching methodology, the layout, the décor, and even the annual admissions owe a lot to the efforts of this doughty lady to bring "proper" education to Hyderabad.

Improper, in this lexicon, is what cookie-cutter schools are. Schools that guarantee a particular "pass percentage", that assure admission to selected colleges, and so on. Vidyaranya will have none of that. Alumni who range from Hyderabad's own NTR Junior and Diya Mirza to several graduates of India's most competitive colleges, attest to the fact that Vidyaranya is onto a good thing.

Vidyaranya, like an affectionate mother elephant teaching the calves to swim, pushes kids on to confidently address what they want best for themselves with well-timed, well-placed and well-intentioned swats. Kids are encouraged up to treat those two imposters, victory and defeat, just the same. This applies to competition, to studies, and to games.

But the laissez-faire approach to teaching shouldn't fool you. Behind the it-doesn't-matter-whether-you-do-the-homework-or-not air lies a sharp sense of observation. While there are no formal exams till the ICSE Board exams at the end of the 10th class, kids can be told to repeat a grade if the teachers feel it in their better interest. Without being in-your-face with anything, Vidyaranya walks-the-talk on everything. Care for students' safety, for instance, is not just bruited about. Which other school in Hyderabad has fire drills, complete with fire-engine and all?

The fees are remarkably low - about Rs. 12,000 per year including lunch - and the school is shorn of all fuss. There's an active PTA, and regular meetings with the parents where philosophy is given a gentle nudge. Parents and kids, both alike, are left to make their own choices. The school has the reassuring stolidity, confidence and longevity of Mother Earth: here before you, here after you're gone.

Should you choose this school? If you have strong family values, don't want your kid to become a clone of the current talk-of-the-town, and are confident that happiness is not the same as success, then the answer is an unequivocal "yes". If, however, you believe that kids need to be conditioned to handle the crucible of their adult years, or if you want to get them started on their Yellow Brick Road before they reach their +2, then you should look elsewhere.

Admission to this remarkable school is, well, not easy. A lot depends on what the school makes of the parents, as well as on the current strength and make-up. The norm is 25 kids per section, and two sections per class. It appears that at a subliminal level, efforts are made to maintain a healthy melting-pot, with students representing all religions, economic backgrounds, cultures and so on. The leaning seems to be towards well-educated parents. Children with special needs are welcomed, without being patronised.

Vidyaranya has a lot to recommend it. If you have the courage in yourself, your genes and your progeny, and can screw your courage in its sticking place and run the gauntlet of the intimidating-without-meaning-to-be-so admission procedure, your kids will owe you one.