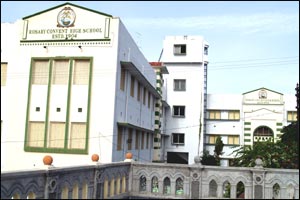 If your closest encounter with the sisterhood has been through a screening of Whoopie Goldberg's Sister Act sequels, you must think twice before venturing into one such, almost heavenly institute. But if you yourself have done years being grilled in a convent, you know, despite appearances, that your child has an even chance of coming out of the gates sporting a refined personality, even if with some crude notions on life.

Taking canonization rather seriously, the Franciscan Missionaries Of Mary established the Rosary Convent High School in 1904 right atop Gunfoundry, the ammunition center of the erstwhile Nizams of Hyderabad. While Abid, a valet of Nizam VI, was creating ripples in the vicinity with his newly opened shop, the Rosary Convent Sisters were working hard to teach the young begums matters other than shopping.

A hundred years down the line, the school has produced high achievers like Parthasarthy, Managing Director of HUDA as we write this in 2005; Della Gordrey, MLA; Mulini Reddy, Arjuna Award Winner; Seetha Reddy, Chairman of the Zilla Parishad; K Pronoti Suhasani, Director, SEERT; and several others.

Initially started as more of a finishing school, the Rosary Convent now has, in addition to its academic activities, weekly club activities including aerobics, yoga, karate, volleyball, basketball and table tennis. More rigorous games are not encouraged, either due to the lack of an adequate playground or the propriety concerns of the Church - a fact not considered important by the hundreds of aspiring parents, who assault these Pearly Gates for their children's admissions.

The syllabus has become expansive with computers and modern subjects claiming place, and the girls have become more boisterous than puritan decency permits, but one aspect has remained unchanged - the nuns. Defying all time-bound improvements, you'll find them as brusque as you encountered them on your own first day at school.
EVENTS AT ROSARY CONVENT HIGH SCHOOL
There are no events at Rosary Convent High School scheduled currently.
LEAVE A COMMENT
fullhyd.com has 700,000+ monthly visits. Tell Hyderabad what you feel about Rosary Convent High School!