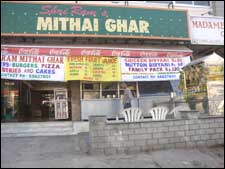 Pani puri lovers are not too fussy about where they eat. Mainly because no matter how bad a place is, it's difficult to mess up with pani puri. Poke, stuff, dip, serve. Not exactly rocket science. But then there are some places that manage to do even this better than most. And it is these places that you must keep away from. Once you've eaten here comparisons are going to happen, and that will be the end of your carefree pani puri popping days.

If you still insist on knowing about the good places, there's one in crowded Ameerpet that you must visit. Another sweets-store-turned-successful-chaat-stall, Shree Ram has something for everyone. Dosas, softy ice creams, fruit juices, fried snacks, and of course, chaat.

The dahi kachori is good, and so is the ragda samosa. But some days are better than others and so a good plate of chaat will depend a little on your luck. The pani puri however, is consistently good. It is so well loved because it's fresh, spicy and served cold. Alternating between the meeta and teeka ones is the way to go.
EVENTS AT SREE RAM MITHAI GHAR
There are no events at Sree Ram Mithai Ghar scheduled currently.