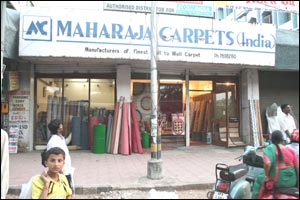 Maharaja Carpets offers a variety of floor coverings to choose from - it offers both Indian and imported carpets, cotton durries, hardwood and laminated flooring material, and carpet tiles.

The popular choices for residences are synthetic wall-to-wall carpets and rugs. The prices for the former are in the range of Rs. 20 - Rs. 200 per square foot. Woollen carpets are also available, but they are harder to maintain, so it's the discerning buyer who looks for these.

A new trend is the use of carpet tiles, which are currently more commonly used in commercial spaces because of their higher price tag of Rs. 100 - Rs. 300 per square foot, though they would work well in residences too. Hardwood floorings are available in the range of around Rs. 400 per square foot, depending on the color. Laminated floorings are more economical, costing Rs. 100 - Rs. 200 per square foot. The influx of expats to Hyderabad has created a market for fine silk and woollen handmade carpets, and Maharaja Carpets plans to cater to this demand shortly.

There is not much display in the store, but samples are easily viewed, and it is not difficult to make a choice. Another service the store provides is the cleaning of carpets, and even sofas etc. so that after a sale has been made the store can still maintain a relationship with its customer by providing maintenance.
EVENTS AT MAHARAJA CARPETS (INDIA)
There are no events at Maharaja Carpets (India) scheduled currently.
LEAVE A COMMENT
fullhyd.com has 700,000+ monthly visits. Tell Hyderabad what you feel about Maharaja Carpets (India)!