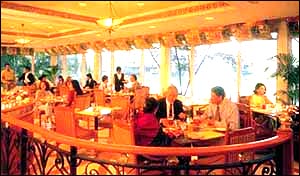 Set a little away from the madnesss of the main road, and overlooking a small man-made lake, the Waterside Cafe is most popular for, what it calls, the largest buffet in town. They promise to spoil you with choice - more than 25 dishes for main course, around 8 salads and, best of all, 12 desserts every day, for both lunch and dinner. Plus, a chef on the spot, who will whip up anything you desire, from chaat to cheese-rolls. All at around Rs. 400. And the view of the lake is pretty, too; sometimes, if you're lucky, you can see mongooses gambolling about by the shore.

The Cafe is not a 24-hour coffee shop, but makes up for this by opening early enough for breakfast, which is also quite a spread at half the price of lunch. Not too many people go a la carte here, but the ones that do prefer to stick to Indian or Chinese food. Rotis are preferred with the delicious Butter Chicken and Methi Chaman. In the Chinese section too, people pick the conventional dishes like Soft Noodles with Stir-Fried Vegetables In Hot Garlic Sauce.

If you're in the mood for Continental, you'll like the Chicken Sizzlers or the Grilled Fish. The Waterside Cafe's most famous desserts include the Caramel Custard and the Chocolate Mousse.

This is one of the more relaxed 5-star restaurants you'll find in the city, and also one of the best loved. The lake-view makes people linger over their lunches, or nearby in the lounge, and so no one's in a mood to rush and hurry. Being near water, however little, does good things for people. Not to mention, for the mongooses.
EVENTS AT WATERSIDE CAFE (TAJ BANJARA)
There are no events at Waterside Cafe (Taj Banjara) scheduled currently.
LEAVE A COMMENT
fullhyd.com has 700,000+ monthly visits. Tell Hyderabad what you feel about Waterside Cafe (Taj Banjara)!