Raja Rani Shoppe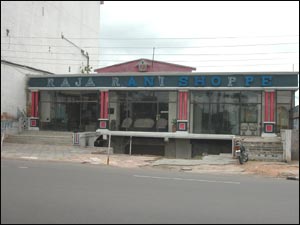 Location is all very well when you're trying to do business, but how about the other important L, lighting? Raja Rani looks like a store down on its luck, the neon sign toppling over and the interiors damp and dark. We wouldn't review this store at all if it weren't for a couple of redeeming features.

Apart from the usual furniture-store clutter, the store has some lovely glass-topped tables; one with a painting of the Renaissance era spread over the surface. You might also find something original in its line of acrylic tables and chairs.

The prices are about all right, with the outer limit being around Rs. 56,000 for a bedroom set. On the whole, Raja Rani is better than it gives itself credit for. But it relies almost entirely on its prime location to woo customers. Then again, this is probably a better strategy given the abysmal interiors.
RAJA RANI SHOPPE SNAPSHOT
Listed In

Address

Telephone

Distance

Sub-Categories

Year Started

Timings

Closed On

Payment Option(s)

Closest Bus Stop

Closest MMTS Station

Add New Field:
EVENTS AT RAJA RANI SHOPPE
There are no events at Raja Rani Shoppe scheduled currently.
LEAVE A COMMENT
fullhyd.com has 700,000+ monthly visits. Tell Hyderabad what you feel about Raja Rani Shoppe!