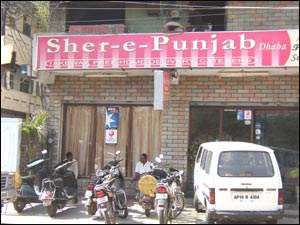 Sher-e-Punjab Dhaba is located near Diamond Point; between Diamond Point junction and GTB on the left hand side. At least that was what it was called till GTB was run aground. And now that you know how to get there, let me give you the bad news first.

You will not find Sher-e-Punjab in the Michelin Guide. If you plan to impress your girlfriend on her birthday, this is not the place. If you are looking for a large open air lawn to sit and sip rum mixed in your cola (like you do illegally on the dhabhas on Medchal road) this is not the place. If you are looking for a mallu owner and a mallu chef, this is not the place. Now, wait a minute. The last one is not the bad news; it's the good news. The dhaba is run by a Sardarni auntie (she's old, sits at the counter and everybody calls her auntie - even you will) and her son Amar Singh.

Sher-E-Punjab is one of the few dhabas where you will find Makkai Ki Roti and Sarson Ka Saag on the menu. The tandoor is fairly good. North-Indian dishes are what you should order for. Soups are in the Rs. 20-30 range, vegetarian dishes Rs. 30-50, and non-vegetarian dishes Rs. 50-70 rupees. Of course, like all small restaurants, they also claim to serve Chinese food, but keep away from it. Unless you want to eat Punbjabi style manchurian.

The furniture is very spartan. There is a so-called A/C section on the ground floor, but do not expect centrally air-conditioned comfort. The place is quite small. The A/C section seats about 20 people and the non-A/C section on the first floor (up a steep flight of stairs) seats about 30.

But the dhaba makes up for lack of ambience by serving good Punjabi food. If you happen to live in Gun Rock, Sikh Village, Old Bowenpally and Diamond Point, they will also deliver it to your home. You can get in touch at this number - 2784-6740. It is a great place for under 100 bucks per person for a non-vegetarian meal in a decent place. There are no riff-raff hanging around, and it is a joint you can take your family to.
EVENTS AT SHER-E-PUNJAB DHABA
There are no events at Sher-E-Punjab Dhaba scheduled currently.