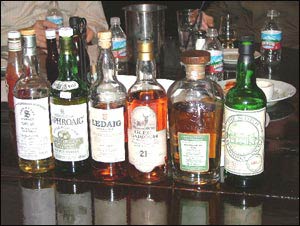 If you ever asked what people think a special interest group is likely to do, the answers would be varied and many. From insinuations that a special interest group is likely to have men with painted faces and budding plumage and members indulging in cannibalistic rituals, to people observing esoteric rituals a la Dan Brown's Priory of Sions, myths galore large.

That the cliques function in their own niche is true enough, but most often they are guilty of the most innocuous indulgences - nothing brinking on Okkadu Okka Roju's hidden sectism, or the deep glamor of Pauelo Cohelo's Valkyries. The Single Malt Club is an exclusive group of gentlemen who, in addition to loving everything else good, love their whiskey just a little more.

Started with a group of friends deciding to meet over their bottles, the Club still preserves its closed, guarded nature. You have to be a friend or a proven whiskey lover, and better still, both, to join in the party. The gatherings are informal, with members taking turns at playing host by rotation. The acting host provides the food, entertainment and place, while the guests must essentially bring their own whiskey.

The members come from diverse fields - high profile doctors, club owners and businessmen - but share the skill of rating their whiskey equally well. So if you already know why Single Malt is different from Malt, and what makes whiskey made in Midland different from that made in Isly, all you've got to do is earn a few million bucks, join the league of interesting people, and hope to gain friendship with a member.
EVENTS AT SINGLE MALT CLUB
There are no events at Single Malt Club scheduled currently.