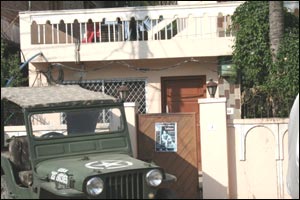 At the Genesis, when God was distributing colors and glam among his creations, man was busy perusing his account bills while his wife frequented the beauty salons. Or so say the scriptures on the rationale for the bland and shamefully unpatterned skins that we humans possess.

Trained in Thailand in the art of tattooing, Loyd is an artist bent upon rectifying this tragedy. At his shop, you can get decorated in patterns of your choice or his, but with inks that always remain organic. Made from vegetable and fruit, these inks are imported from London, and hence obliterate any chances of any synthetic intervention.

Abhorrent to some and panache for others, the art of making tattoos requires more than the artistically nubile fingers. It requires a frame of mind too well-trained to react to the quarry's discomfort. At Loyd's, you can sit or lie assured, as not only does the master use clinically sterile instruments for his operations, he also has an 8-year experience at his craft.

A session with Loyd requires you to have loads of patience, an equal amount of dough, and some past rendezvous with the pricking sensation. The inks, the experience and the patterns that you desire, might cost you anything between Rs. 500 and Rs. 5,000, but it is worth the pain. And the pain... well, it's your pick.
LEAVE A COMMENT
fullhyd.com has 700,000+ monthly visits. Tell Hyderabad what you feel about Telangana State Gallery Of Fine Art!