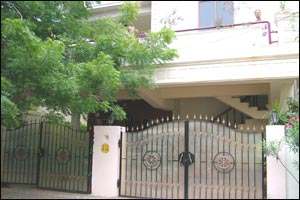 For those who haven't already heard of AIESEC (the Indian chapter completes 25 years of existence in August 2005), it is a voluntary student organization that began post-World-War-II to develop friendly relations among member countries. Today it spans 89 nations and has a presence in 800 universities all over. The Hyderabad chapter of AIESEC is one of 12 local committees present in India.

What they do is send young people on exchange programs to corporates and NGOs in other countries. Through a commendably detailed process of orientation and de-briefing, AIESEC makes these exchanges a rich and beneficial learning experience. Not just the trainee, but also every AIESEC local committee involved in seeing the traineeship through, gets impacted. That's the core activity around which AIESEC revolves.

But all that is a lesson in history. Through its 55 years of existence, AIESEC International has been constantly changing, driven by the ideas of the pro-active students who constitute it. As much as any multinational company, branding, human resource quality and realization of vision are issues that motivate AIESEC to take new strategic direction constantly.

So here's a sneak peek at today's AIESEC for you. The biggest change is that the member body today consists of a large number of exchange students itself - as compared to earlier, when more outsiders were sent on traineeships.

This move was undertaken because AIESEC realized the need for trainees who understand the philosophy and processes behind the exchange. And realized that its own members would make the most effective trainees, since their orientation and de-briefing for a traineeship would last as long as the membership.

So as a conscious move, AIESEC today encourages its members to experience what they are facilitating. Which means that if you join here, there is a good chance you will be off on an exciting traineeship abroad before you know it.

For more, and this is definitely the bigger news, the AIESEC crowd is looking to shake off its party image! One of the biggest attractions of being with AIESEC has always been the promise of innumerable parties and a great, closely bonded crowd to hang out with. The opportunities to party are many at AIESEC. Local level meetings, national level meetings, seminars and the general body meetings every week. But AIESEC is now looking to project itself as the serious organization that it has always been. The partying hard will always happen in any organization that works as hard, but it will now just be a fringe benefit.

For more, go to the AIESEC international or Indian website. They recruit twice every year, and are always looking out for bright, enterprising people with eclectic backgrounds. Try them and they might just help you find your calling in life!
LEAVE A COMMENT
fullhyd.com has 700,000+ monthly visits. Tell Hyderabad what you feel about AIESEC (International Association Of Students Of Economics And CoMMerce)!