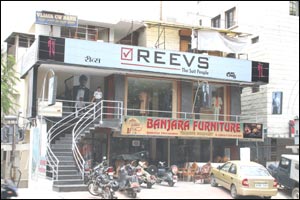 If your spouse's many virtues do not include an appreciation of modern furniture, then Banjara Furniture is the place to pay a visit to. For, everything here is made from solid and dependable Indian teak wood, and you are sure to get your money's worth in terms of elegantly carved, yet comfortable furnishings for your home.

Banjara Furniture has a large collection of sofa sets, dining tables, beds and an assortment of tables and cabinets. The pieces are priced according to their sizes and the intricacies of the designs and carving.

You'll find sofa sets (3+1+1 seaters) in both sleek contemporary designs as well as in ornate and carved ones, priced between Rs. 16,000 and Rs. 54,000. Beds made of teakwood start at Rs. 2,500 and go up to Rs. 32,000. There are also dining table sets available at Rs. 18,000 and over, divans at Rs. 13,000, and armchairs up to Rs. 11,000. You can also choose from a variety of side-tables, coffee tables, cabinets and dressing tables. You can also get customized furniture at this place.

At Banjara Furniture you can be assured of quality, as teak is known for its durability, and yields itself to good craftsmanship. The shop is well laid out, and even when its stocks are full, it does not give the appearance of being cluttered.

Though you cannot exactly file this one under "budget" furniture, the store has something more to give for the amount it charges - reliability and comfort. So if you are looking for life long solutions for your home dcor, go for it.
EVENTS AT BANJARA FURNITURE
There are no events at Banjara Furniture scheduled currently.