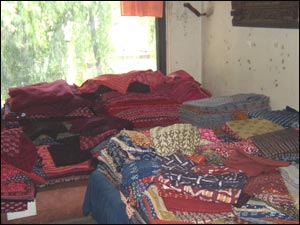 Life is replete with vagaries. You don't have to be a dog to have yours seem like a dog's life. You don't have to be a man to be able to park your lazy behind on the couch as you watch TV and guzzle beer every evening, er... actually, you do, bad example, but, and this time we are sure we are right, you don't have to go to Gujrat to pick up genuinely amazing, handcrafted, stuff typical to that place. Phew! Thank heavens for small favors!

And Gurjari isn't the 'small favors' that we are talking about. It is a huge, gigantic, humongous blessing! The place is awesome. The Bandini dupattas and saris in dazzling colors, block-printed bedspreads that are ideal for a laid-back, ethnic decor, and smart, ready-to-wear salwar-kameez, tops and jackets that make for great work-wear, all combine to make Gurjari a slice of heaven.

And there is a lot more to it than textiles. It supplies great gift ideas in terms of file-holders, pen-stands, coasters, show-pieces and toys. Gurjari also has a great ensemble of lacquered furniture. And a mini-bar we saw there made our heads spin deliciously. The thing was crafted as a small chariot and made entirely in bronze!

All in all, you could spend an entire day buying stuff here and then dreaming about buying more stuff here.