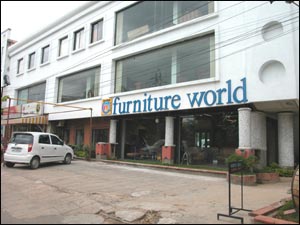 It took 11 countries to fill up the 3-storeyed FW showroom. Hence the term Furniture World. Hence also the term Big Deal.

However, if you don't go here expecting to be prostrate with excitement, then FW has plenty to keep the extravagant shopper in you occupied. Expect to see lots in the over-stuffed sofa and ornate head-rest theme. The sofa sets range from Rs. 16,800 to Rs. 2.25 lakhs, dining sets from Rs. 11,000 to Rs. 96,000, and bedroom sets from Rs. 40,000 to Rs, 86,400. The bedroom sets include a bed, side tables, wardrobes, dresser and a chest of drawers. Nice, no?

But make sure that you get here early. The management doesn't like people dropping in after 8 at night, even though they are open for business till 9. If you have furniture to buy after 8pm, that's just not their problem.
EVENTS AT FURNITURE WORLD
There are no events at Furniture World scheduled currently.