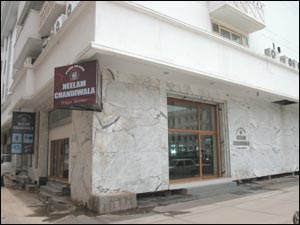 It will be more appropriate to call Neelam Chandiwala a silver mart, not a shop. A peek inside will awe you with the things that can be cast into silver. Once you have regained your bearing, the truth will dawn. You will realize that candle stands, lampshades, diyas, thalis, mirrors, photo-frames, bowls and numerous other artifacts that you have been used to, were actually all fakes. After spending a lifetime surrounded by metal, wood and steel, if this is your first brush with silver, you might relish just standing inside this showroom.

All Neelam Chandiwaala's artifacts are manufactured at its factories at Mumbai and Kolkata. From intricate anklets to big trophies, everything's carefully crafted and designed at these far-flung foundries, and then flown to Hyderabad. You'll come across deities, showpieces, gift articles, mementos and emblems, specially designed corporate gifts, and customized trophies. These masterpieces' value is enhanced by a touch of gold polish, intricate engravings, exquisite nakashi-work or meena work.

The shop, true to its mettle, glitters in the glass and plush velvet-decked shelves harboring the beautiful pieces. A first glance might lead you into the false reasoning that it is a jewelry shop, but when your eyes have adjusted to the brilliant lights and taken a bearing of their own, you'll find that you cannot be further astray in your assumptions. Neelam Chandiwaala do not deal in jewelry, and except for a small collection of intricately designed anklets, it has little else to offer to the ladies, or their husbands, as the case may be.
EVENTS AT NEELAM CHANDIWAALA
There are no events at Neelam Chandiwaala scheduled currently.