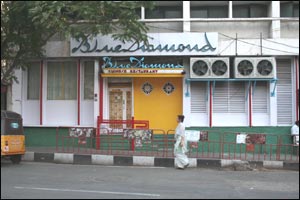 Another old-time joint that has acquired landmark status, Blue Diamond is the kind of place you'd go to for an unhurried meal. Something about the place - the space, the uncluttered décor - invites you to stay a while over your lunch and do a thorough job of sampling the favorites.

More than thirty years old in the city, BD has a menu that includes a couple of must-haves in every section: soups, appetizers, the main course, and even dessert. And you can trust the service to be very helpful in leading you through the specialties of the house.

It's tradition to start off with Crispy Chicken or the Chicken Pakoda, both of which are very good. Veg. Spring Rolls and the Mandarin Fish are also popular options. For the main course, try the soft noodles with Crisp-Fried Vegetables in spicy sauce, or the Chicken, Baby-Corn And Bamboo-Shoots Soft Noodles. The Special Mixed Soft Noodles, with chicken and prawns, is highly recommended. The Veg. Chopsuey is quite a meal in itself. For a perfect meal, round off with their famous caramel-custard.

Basheerbagh has absolutely no dearth of restaurants, but this one has history. And no matter how many other swanky eating-joints come up, Blue Diamond will remain a favorite with Hyderabadis who hold onto a good thing when they find one.