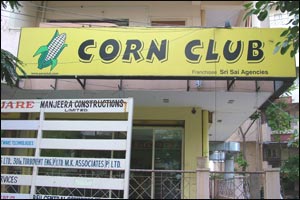 Corn Club is one of the few places in the city that thrive on word-of-mouth. And how. Considering it's out of the way, embedded irredeemably in the chaotic Ameerpet commercial area, and surrounded by depressing high-rises and office buildings, Corn Club draws its immense popularity from one thing alone - the idea of enjoying bhutta all-year-round. And it does such amazing things with the golden kernel that you'll have trouble believing this stuff is actually healthy for you.

They make everything possible with corn here - sandwiches, samosas, even biryani. The steamed Corn On Cob is excellent. Also try the Bake with its generous helping of cheese and veggies, the Mexican Pizza, the Nachos and the popular Frankie.

The Grilled Corn Sandwich is the best of the lot, and quite a meal at Rs. 25 for a large portion. The Corn Bhel is another much loved dish here. The Samosas and Patties tend to be too oily, but the batter-fried Baby-Corn Fingers is very good. For a more substantial and thoroughly economical deal, try the Makkai Ki Roti with Sarson Ka Saag (Rs. 39), or the Veg. Corn Biryani (Rs. 38), both of which are good value for money.

Mandatory nutritional facts: Corn, of course, is full of wholesome fiber, but Corn Club goes one step ahead and uses only cholesterol-free oil. So, horror of horrors, you might, in fact, enjoy yourself on a diet. Not to mention, on a budget.