Ballerina Bar And Restaurant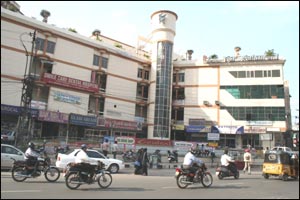 Ballerina has an exclusive capsule lift, which was one of the first modern elevators in the city. It was also adjudged the Best Hotel in 1999 by the Association of Catering Professionals. But that is history. In the present times, it has professionals who cater to more than just the food and beverage needs of its patrons.

The restaurant is open only during dinner hours, with a live orchestra featuring femme fatales and male singers who seem like they are trying to outdo each other in blurting out tuneless melodies. The décor of the place has nothing to remind one of a ballet - on the contrary it has paintings of courtesans in all their glory.

The menu adds more shock value with its pricing. Beer starts at Rs. 130, and the rest is on the same lines. It offers Chinese, Mughlai and Indian cuisine. A meal for two can cost up to Rs. 300 - excluding beverages, which depends on how much you can guzzle. The food is quite spicy in all the wrong places, and the waiters seem like they have not learnt the 'Art Of Waiting', except when the time to tip comes up. The same holds true for the parking guy, who will salute you as many times as possible.

The music, an orchestra with singers performing Hindi and Telugu numbers, is loud, and can induce a hangover by itself. The patrons are generous in appreciating the singers, and are not very appreciative of others' appreciation of the singers that they appreciate, which creates a not-so-appreciative situation. So much for appreciation.

Ballerina is a place to go when you are in the mood for 'Shabaab' and 'Sharaab', which the Worcestershire Dictionary defines as Beauty and Booze respectively. Not guaranteed to please your girl!
BALLERINA BAR AND RESTAURANT SNAPSHOT
Listed In

Address

Telephone

Distance

Sub-Categories

Other Categories

Average Meal Per Couple

Parking

Veg/Non-veg

Other Features

Buffet

Year Started

Timings

Closed On

Average Meal Per Couple

Payment Option(s)

Closest Bus Stop

Closest MMTS Station

Add New Field:
EVENTS AT BALLERINA BAR AND RESTAURANT
There are no events at Ballerina Bar And Restaurant scheduled currently.
LEAVE A COMMENT
fullhyd.com has 700,000+ monthly visits. Tell Hyderabad what you feel about Ballerina Bar And Restaurant!