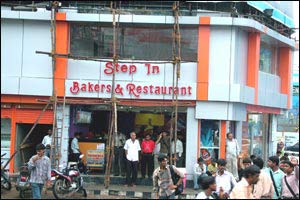 Any place that's replaced the much adored Shanbhag restaurant has some serious living up to do. And fortunately Step-In does more that just live up to expectations. This eatery has some really good items to tempt you with. Nothing fancy, but all quite good just the same.

A big, brightly lit place that's situated almost in the centre of the Punjagutta X-roads, this bakery's first USP is its pocket-friendly pricing. This would explain why it sees a healthy crowd any time of day. Plus, it does a good job of the old favorites like stuffed buns, burgers and the omnipresent Vegetable Puff. Step-In even serves a pretty good Capsicum Puff. The Chicken Roll, Veg. Burger and Mutton Cutlet are very much in demand here. The fact that they're priced at an average of around Rs. 15 makes them more attractive than the items themselves.

The desserts section has a couple of surprises, like the Choco Rice and Praline Pastries, both of which are a welcome break from the usual. Step-In also has some delish cookies, of which the Salt Cookies and the corn-flake-coated Crispy Cookies are the best. Special cakes are also made on order, and they see a lot of demand for the Butterscotch flavor.

Taken all around, Step-In is a nice place to go to when you're broke beyond belief and need some good food to cheer you up.