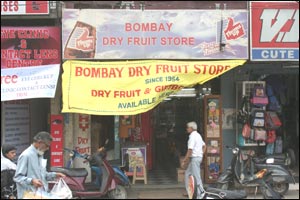 Before FoodWorld came along and made it possible for you to blow all your money in one place, there used to be a different kind of store. Family-run establishments where the shopkeeper knew his wares inside-out and would obligingly keep a secret hoard of your favorite brands and delicacies for your next visit. Not many of this type have survived the supermarket sweep, but M G Road's Variety still holds sway.

Dry fruits, exotic and common, are their specialty, of course, but that's not all the crowded little store stocks. Known for really good quality almonds, figs, cashews and pistachios, Variety is quite a hit with the good cooks of the town. The store has elusive cake ingredients - sugars, flavors, icing -, dessert mixes, excellent dry spices, and a large wicked variety of snacks. The green chilli pickle here is to die for.

The snacks definitely deserve a paragraph to themselves. Everything you've ever craved during a bad case of the munchies, you will find here. From chikkis and laddoos to rose cookies and mixtures. Since this is a Gujurati joint, look out for the delish dhoklas and khandvis, not to mention kachoris, theplas and bakarwaadis. Those last two are Maharashtrian, we know, but yum food is yum food. And at this particular landmark, yum food is practically company policy.
EVENTS AT BOMBAY DRY FRUITS
There are no events at Bombay Dry Fruits scheduled currently.