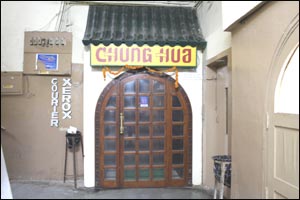 Another popular joint in the Basheerbagh area, CH is invariably crowded with shoppers, students and office-people. Priced reasonably, and with some super-delicious specialties, this restaurant is strictly for the food - straight up and no fussing.

Service is swift, and the decor is basic with rather dim lighting. But nobody minds. As long as you know what to order, you'll keep coming back for more. Let's take you through the best-sellers on the menu.

Take a break from the usual chicken corn or tomato and try the spicy Thai soup instead - or if you prefer something more tame, the Hoi Sen would be a good choice.

Follow that up with the Barbeque Chicken (big hit!), or the Kung Pao Vegetable. The main course would be incomplete without the Noodle Basket (bigger hit!) - fried noodles in the shape of a basket, filled with hot garlic sauce. Also try with fried rice, the Baby Corn With Mushrooms, the Fung Sao Kay (roast chicken in sauce), or the Soybean Fish.

Square it off with Fried Ice-Cream for dessert, and you're ready for a long snooze in a hammock. You can call in stuffed at work, it'll be worth it.