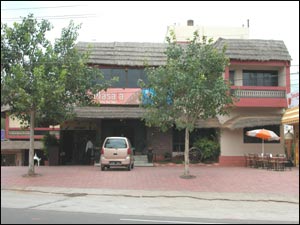 Coffee and sandwich for lunch is all very well, but sometimes you just have to have a full-course Indian meal. Something in generous helpings, with rice and spice and everything nice. Amid pleasant surroundings. Oh, and for a bargain. Some people might say you're asking for too much, but not the folks at Masala.

After only a couple of months in the city, this has come to be known as the place for spicy Nellore Andhra food, especially among the office-goers of Jubilee Hills. It's clean, spacious and affordable, and some of the dishes on the menu will have you breathing fire. Ah, the infinite pleasures of the red chilli.

If you're not up to pondering over the menu, order the Andhra thali (only Rs. 50), it includes, among other things, potato fry, chutney, pulusu, rasam, veg kurma, rice, roti and sweet rice-pongal. As much as you can eat of everything but the roti. The non-veg thali (Rs. 110) has all that, plus chicken, fish and egg curries.

Try the biryanis here, chicken, mutton and prawns. Or get paratha with the fiery chapa pulusu, or a variety of other meats like emu, quail, rabbit and even the infamous bheja fry (brain fry). For a cheap eat, order the Nellore egg curry with rice or rotis and your bill will stay within Rs. 50.

Masala also serves North Indian food, and rotis do well here with dishes like palak paneer, paneer butter masala and kadai vegetables. The kadai chicken, and butter chicken are also popular with the naan crowd. Among its Chinese choices, people prefer the sweet corn or chicken corn noodles, with veg manchuria, sweet 'n sour vegetables or chicken majestic.

Nothing from Nellore in the dessert-try, you'll have to make do with ice-cream. Masala does have a fresh seafood stall for finicky cooks. Breakfast is also served, consisting of the classic idly-vada-dosa combination.

A nice enough restaurant to visit on your lunch-break, Masala has all the ingredients of a place you'd want to go back to. The dcor and service are unobtrusive, but there's nothing the least bit forgettable about the food.
EVENTS AT MASALA RESTAURANT
There are no events at Masala Restaurant scheduled currently.