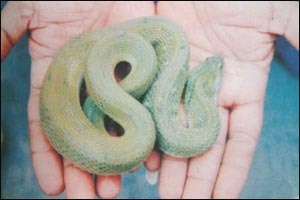 Celebrity endorsement is clearly not what this club thrives on. Actor Sai Kiran, for e. g., one of the more active members, comes across in conversation as a wildlife enthusiast foremost and not just an actor lending his name part-time. Neither can you join this group unless it ascertains itself that you are a genuine snake lover. If you are motivated only by the prospect of awing your girlfriend by riding a bike with a snake entwined around your neck (there have been incidents!), this club won't welcome you with open arms.

Friends Of Snakes, started in Hyderabad in 1985, is a rather exclusive group at the end of the day. For the simple reason that people who love snakes are a rather exclusive group themselves.

Around 80 people strong today, Friends Of Snakes works towards the conservation and safety of snakes and their habitat. One of the things they do is operate a helpline that you can reach if you spot a snake. They respond immediately and come down, allegedly to "rescue the snake from the people". For this they charge about Rs. 350, but donations are welcome.

In addition, they do demonstrations in schools, colleges, corporate offices etc., where they teach the distinction between venomous and non-venomous snakes, and how to handle either.

Twice a month they go on nature trips to some of the virgin forests of AP. From angling to spotting great horned owls and shell-fish, these trips sound like the stuff National Geographic is made of.

Friends Of Snakes plans to open a snake park in Hyderabad soon, which will have more than 180 species of snake. They also plan to throw open their nature trips to public.
EVENTS AT FRIENDS OF SNAKES
There are no events at Friends Of Snakes scheduled currently.