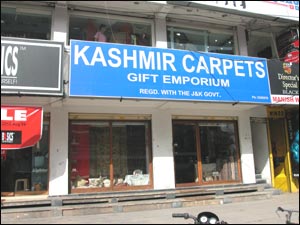 If you feel the need to be adventurous with your taste in home staples, and have the dough to match, Kashmir Carpets is the place to pay a visit to. This is one store which will remind you of Aladdin, not for his tastes in flying objects, but for his treasure cove.

Kashmir Carpets has a vast collection of not only carpets of all shapes and sizes, but also of a medley of other products like pure wool shawls, pashmina shawls, marble and wood artifacts, wall hangings and jewelry.

The price of the carpet depends on the material used (thread - wool or silk), the number of knots per sq cm, and the size. At Kashmir Carpets they have a large variety of all the above permutations. Woolen carpets are available in sizes of 3x6 ft, at Rs. 10,000; 5x7 ft at Rs. 16,000; hall-sized carpets at Rs. 54,000 and above; and carpets made of silk threads, priced at Rs. 24,000 and above.

The store also has a collection of wall hangings, in sizes of 2x3 ft, at Rs. 200; and 3x5 ft at Rs. 500. Papier-mache figurines priced between Rs. 50 and Rs. 900, decorative balls and eggs at Rs. 60, and jewel cases between Rs. 60 and Rs. 900 are also available.

There are also a few marble show-pieces including figurines, decorative stools and jewel-boxes at Rs. 50 and above. The store also keeps a small variety of pure silk shawls starting at Rs. 500, and some pashmina shawls.

At Kashmir Carpets, the prices for almost everything are variable and negotiable. But this has nothing to do with the integrity of the place, as both the owners and their carpets have bona fide Kashmiri DNA to boast of. Still, if you venture in, be sure that either you are a connoisseur yourself, or are carrying one along, so that the price issue can be killed on the spot.
EVENTS AT KASHMIR CARPETS
There are no events at Kashmir Carpets scheduled currently.