Athithi Inn (Restaurant)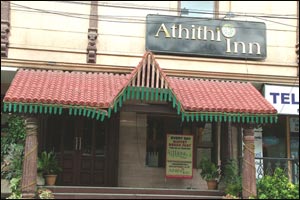 Annalakshmi's fruit juices are special because they contain no sugar - honey is the healthier substitute - and most all of them have ginger, which is excellent for digestion. Plus, they're all most delish.

Like the sweet lime and pomegranate drink Anarkali or Rasmadhuri - tender-coconut water with lime and honey. Triveni is a mix of grape, pineapple, sweet lime and ginger, and specialty-of-the-season Mango Tarang also has that wicked twist of ginger. Another seasonal favorite Tharboosh is a combo of musk melon, ginger and honey, while the year-round Ginger Pine has the perfect proportions of pineapple and ginger. For a richer treat try Amrit, a mocktail of dry-fruits blended with various spices.

All in all, quite a find in the chaotic Ameerpet area.
ATHITHI INN (RESTAURANT) SNAPSHOT
Listed In

Address

Telephone

Fax

Distance

Website

Sub-Categories

Other Categories

Average Meal Per Couple

Recommended Dishes

Year Started

Timings

Closed On

Average Meal Per Couple

Payment Option(s)

Closest Bus Stop

Closest MMTS Station

Add New Field:
EVENTS AT ATHITHI INN (RESTAURANT)
There are no events at Athithi Inn (Restaurant) scheduled currently.
LEAVE A COMMENT
fullhyd.com has 700,000+ monthly visits. Tell Hyderabad what you feel about Athithi Inn (Restaurant)!