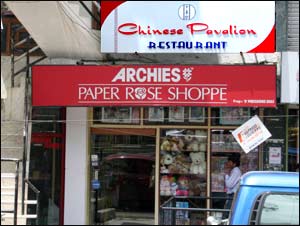 This little restaurant-in-a-cellar has the first rule of marketing down pat - make a superior product. It doesn't matter whether you have 'oriental' lounge music, it's of no importance if your name is spelt in Chinese on the sign-board, and no one cares if your interior designer was flown down from Shanghai. Simple fact - make a better plate of chopsuey, and the world will beat a path to your door.

CP is the kind of place that engenders loyalty, and the regulars here can happily resist all temptation from further up the road. Lovers of seafood will find this place a special treat. CP serves lobster, crab and even squid, in Chinese as well as in Thai style.

You could start your meal with the Spicy Crab Soup, or the coconut-based Tom Kha Gai (which, despite its name, is not made of beef). If you're in the mood to go healthy, try the Tofu Pepper Chilli, or the yummy Waterchestnut, Broccoli and Snow Peas Salad, for starters. Barbeque Chicken, Shanghai Lobster and Butter-Pepper Crab are also hot favourites.

Bamboo- and Pot-Rice are staples for the main course, and they both go well with either the veggie Oriental Wok, the spicy Thai Curry or the Pomfret in Black Bean Sauce. Or you can opt for the Tpan Soba, noodles served on a hot platter.

Finish off with Date Pancake and Ice-Cream, Lychee Toffee or their very popular and totally yum Chocolate Brownie. So the next time you're in the mood for a meal with just a couple of good friends and some finger-lickin' good food, then we suggest you go one flight down.
EVENTS AT CHINESE PAVILION
There are no events at Chinese Pavilion scheduled currently.