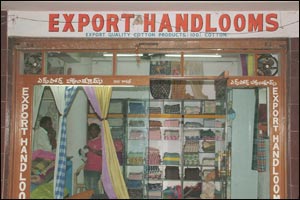 Export Handlooms promises to be a pleasant surprise to those who are not familiar with it. It's a tiny, unassuming place in the basement of the Lal Bungla Complex, beneath larger high-profile jewelry showrooms etc. that populate the ground floor of the building.

The store is impeccably kept, shelves neatly stacked with curtains, bed and table linen, napkins and more. I even saw a gift set of cutely embroidered face towels. All of the items are made from export-surplus-fabric from Tamil Nadu.

The best thing about Export Handlooms is the prices. Everything is affordable if not downright cheap. Readymade curtains range from Rs. 160 - Rs. 300 per piece, and a set of 6 tablemats and napkins can be had for about Rs. 200. The same wares in other retail stores go for at least 50% more.

Manned by a soft-spoken gentleman and a handy tailor with a sewing machine right there in the shop, the store is really convenient for people who want to get their curtains or cushion covers custom made out of fabric that they can choose from rolls available there. In fact, the charge for sewing a plain cover for a 24" x 24" floor cushion is, hold your breath, all of Rs.10!

Also available are small carpets, cotton blankets for children (really nice), oven mitts, and other handy stuff all made from cloth. One word of warning: you better like cotton checks, for almost everything here is patterned this way. There is some fabric in solid colors, and also some in stripes, but these are few and far between.

But for those who like checks, love a bargain, and absolutely adore the combined effect of these two qualities, Export Handlooms is a dream come true.
EVENTS AT EXPORT HANDLOOMS
There are no events at Export Handlooms scheduled currently.