Gangotri, UP Govt Emporium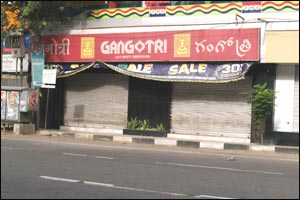 Gangotri is a UP government emporium, but it stocks art and crafts from all over India. There is beautiful woodwork in rosewood from Mysore, paintings on silk from Rajasthan, Shantiniketan style bags from West Bengal, and much more. I particularly liked the selection of handmade silk carpets that range in price from Rs. 4,000 - Rs. 80,000. No mean sum, but the quality of the product cannot be questioned. For those who are looking for something more economical, there is also a selection of durries.

There is a lot of variety in the stock, and a customer could browse through the store and make selections unhurried. There is also some pottery, wooden wall hangings with inlay work, silk cushion covers, bed linen etc.

Gangotri is definitely worth a visit if you like traditional designs, and with a 30% discount on at the time of writing this review, it is a more attractive option.
GANGOTRI, UP GOVT EMPORIUM SNAPSHOT
Listed In

Address

Telephone

Fax

Distance

Sub-Categories

Year Started

Timings

Closed On

Prices

Payment Option(s)

Closest Bus Stop

Closest MMTS Station

Add New Field:
EVENTS AT GANGOTRI, UP GOVT EMPORIUM
There are no events at Gangotri, UP Govt Emporium scheduled currently.
LEAVE A COMMENT
fullhyd.com has 700,000+ monthly visits. Tell Hyderabad what you feel about Gangotri, UP Govt Emporium!