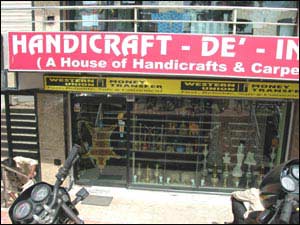 Ever been to one of those shops where everything is so quaint and cozy? Ever taken the time out to browse through them without rushing things? Ever wondered why these places have the aesthetic appeal that they do? Ever wondered how long we can keep up this line of questioning?

The amount of wood in Handicraft de India might be the first thing to hit you. It could actually hit you, if you walked in to the display shelves with your eyes closed like I did. If you choose not to do that, well, then let's start, shall we?

There is a whole range of Kashmiri Shawls, in wool and silk, ranging from a mere Rs. 300 to a respectable Rs. 85,000. Right next to them, you have your silk scarves and stoles, somewhere in the range of Rs. 175 and Rs. 1,800. Those silk worms sure turned out to be some real money-spinners.

Then you have a plethora of brass and sandalwood items. These include earrings, letter openers, key chains and various figures. They range from anywhere between Rs. 75 to Rs. 17,000. Also on display are various artifacts of the Bidriware genre, and cover everything from lamps and candleholders to decorative pieces. Ranging in price from Rs. 30 to Rs. 12,500, there is an impressive number of items to choose from.

No handicrafts shop would be complete without a collection of carpets, and this place has a fair amount of variety to nitpick at. From the smallest 2 x 3 pieces to some real big ones, these carpets start at Rs. 1,800 and can go up to Rs. 4.5 lakhs.

Moving along, you have a whole collection of cushions, decorative pieces in limestone and marble. Jewelry boxes in rosewood, coasters, bangles and various wall hangings in papier-mache are some of things that are very attractive to look at and great fun to hold.

Giving company to some rather delicate gemstone paintings, are silk paintings. They're not so delicate with their prices though - these paintings start at Rs. 25 and can touch Rs. 25,000.

The articles keep spilling, and to keep them in check we have silk bedspreads in the vicinity of Rs. 3,500 to Rs. 45,000. Some of the more eye-catching items on display have to be the brass compasses with sundials (handmade), and the chess sets. Chess sets with their pieces laid with gold lining can be had at Rs. 8,000, and the compasses at Rs. 400 to Rs. 1,800.

This place has a tie-up with Western Union and DHL, and can parcel and deliver your package within 4 days. So, for that touch of class and exclusivity that only quaint and cozy (jump to top) shops can provide, this place pleases. Immensely.
LEAVE A COMMENT
fullhyd.com has 700,000+ monthly visits. Tell Hyderabad what you feel about Handicraft De India (Home Furnishing)!