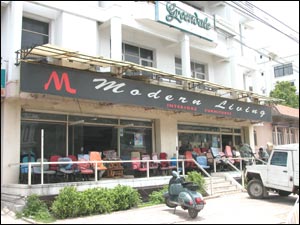 Despite being a fairly crammed store, Modern Living is surprisingly browser-friendly. All the furniture your home will need is available here, especially if you're given to lots of snoozing in front of the TV.

In the lazy-boy range, you'll find recliners, armchairs, beanbags and lounge suites. Apart from these, you have all manner of cabinets, for kitchens, dining areas and living rooms. Then there's all the regular furniture, dining table sets and sofas, in a variety of material and fabrics. Modern Living also stocks lobby furniture.

The store offers its customer lots of options with regard to style, design and budget. The prices here are very easy on the purse, with sofa sets starting at Rs. 4,000 and going up to Rs. 40,000. You don't have to make full payment upfront, just about 10%-20% in advance.

Modern Living cashes in on its central location, with a range that is interesting and affordable.
LEAVE A COMMENT
fullhyd.com has 700,000+ monthly visits. Tell Hyderabad what you feel about Modern Living Interiors & Furniture!