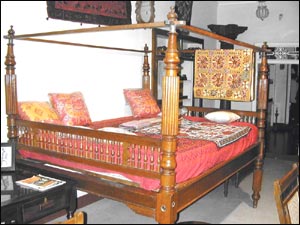 As you tread the dazzling bylane, littered with the likes of Mebaz, and then step inside Art Antiqua, you are bound to feel the time lag - as this is a shop that is a time apart. There is nothing contemporary about Art Antiqua, other than its suave owner.

Art Antiqua is a furniture shop, if you must call it that. But it deals in items that careen on being proclaimed art - a claim underpinned by their age and their craftsmanship. The shop is replenished with the fruits of exhausting journeys undertaken by the owners around the villages of Karnataka and Tamil Nadu.

All the pieces are either antique (between 50 and 100 years old), or old (up to 50 years old). There are beds priced at Rs. 18,000, armchairs at Rs. 12,000 each, and cabinets at Rs. 22,000 and above. Most of the pieces are in teakwood, and are priced according to their present worth and collector's value.

There are old-fashioned dressers, divans, corners, coffee tables, almirahs, and an assortment of chairs. At Art Antiqua, you'll also find brass Ganeshas, diyas and a variety of other figures, all priced between Rs. 50 and Rs. 1,000.

The proprietors are also well-versed in the art of restoration, and most of the items on display have been given a new lease of life by their efforts. There are also a few original prints on cloth, with chronologically matching frames, revived and preserved by Art Antiqua.

At Art Antiqua, you don't buy furniture, you make an investment - not only does the value of the wood and the craftsmanship increase with time, you can also rest assured on the spacious and comfy armchairs for all those ages to come.
EVENTS AT ART ANTIQUA (FURNITURE)
There are no events at Art Antiqua (Furniture) scheduled currently.
LEAVE A COMMENT
fullhyd.com has 700,000+ monthly visits. Tell Hyderabad what you feel about Art Antiqua (Furniture)!