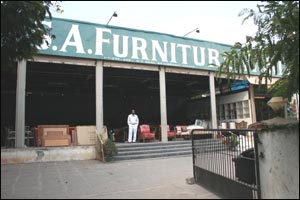 Buying furniture is a very personal journey. S A Furniture World respects this by not interfering in any way, while you browse, enquire or wave madly for help from under a fallen cupboard. Non-inteference in its purest form is embodied in the salespeople here.

Plus, the store is blessed with the clutter demon. Furniture is piled just any which way, so good luck trying to make sense of it all.

Uppers? Affordability and choice. Cupboards, beds, rocking chairs, dining sets, sofas, cabinets, center-tables and desks are all crammed into every inch of space available. You get a mind-boggling choice of furniture made from wood, wrought-iron, glass, fabric and steel. Sofa sets start at Rs. 3,000 and go up to Rs. 25,000, beds range from Rs.12,000 to Rs. 25,000, and dining sets range from Rs. 3,500 to Rs. 20,000.

In summary, distinctly un-special furniture, at nearly rock-bottom rates.
EVENTS AT S A FURNITURE WORLD
There are no events at S A Furniture World scheduled currently.