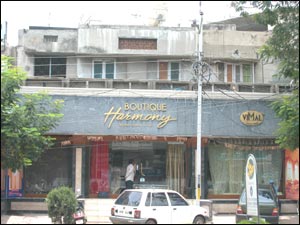 Boutique Harmony is an exclusive showroom for Vimal fabrics, and houses a huge stock of furnishing fabrics in different materials like cotton, silk and polyester blends. Their range is impressive - embroidered sheers seem to be the current "in" thing, and there were countless rolls of the same in different patterns. The prices start at Rs. 125 per meter and go upwards of Rs. 600 per meter. The chenille and tafetta combinations seem to be at the higher end of the price brigade, and though they are pricey, there were some lovely patterns in different colour combinations.

The range of silks too is wide. There were many striking selections of stripes that were almost hypnotic in their effect. Silk curtains can be dry-cleaned, but I would hesitate to put them on the sofas. The sales staff assured me that they could be easily maintained by vacuuming regularly, and can even be petrol-washed.

I didn't see a lot of new designs, however. The range, though big in volume, needs to be added to, as I have seen a lot of the patterns with other stockists in the last eight months. To be fair, however, I must say that if you're not particularly bothered about what the newest fads are, Boutique Harmony is a good option to keep. There are also suitings, shirtings and saris, and so the place doubles up as a clothing store, too.
EVENTS AT BOUTIQUE HARMONY
There are no events at Boutique Harmony scheduled currently.