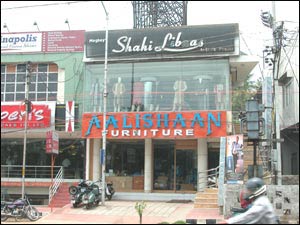 Aalishaan Furniture's sprawling showroom is decked with beautiful paintings, tasteful books and faux flowers - and yes, they sell furniture. The spacious hall, with peach and crme walls and strategic lighting, could well pass for an epicurean's living-room any day. The wares, too, do not discredit the effect. At Aalishaan, you'll come across designs riding high on artistic value, with prices adding credibility to the looks.

Underpinned by its well-equipped factory and qualified artisans, Aalishaan Furniture is capable of minting out unique designs and using innovative techniques. It uses PU (Polyutherene polish), which forms a water-and-scratch-proof veneer while at the same time giving a gloss to the pieces. New Wood (of MDF or Medium Density Fiber) is used for making elegant heads for beds.

Here you can find beds in the range of Rs. 17,000 and above; 6 seater dining-table sets at Rs. 16,500 (in rubber wood) and Rs. 28,000 and over (in teak wood). Sofa sets start at Rs. 32,000, and are available in both matt and gloss finishes, upholstered in velvet, cotton, and a variety of other materials.

There are glass-topped coffee tables sporting intricately carved bases in some unusual designs, priced at Rs. 12,000 and above, and bar trolleys at Rs. 3,500 and over. There are also dressing tables, divans and chests available at this shop.

Aalishaan Furniture also deals in make-to-order, and provides after sales services. This is one of the finest shops to check out if you are looking class and comfort, provided you do not have inhibitions of some rigorous wallet activity.
EVENTS AT AALISHAN FURNITURES
There are no events at Aalishan Furnitures scheduled currently.