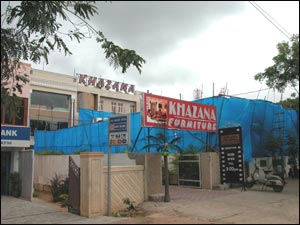 A furniture store that does not neglect those spaces in between, Khazana does a lot for your budget; it wrecks it. But aren't exquisite curios of china, jade and porcelain, worth your complete ruin?

There are four floors to go over; the ground floor has objets d'art, the first floor is for the dining and living rooms, the second is bedroom furniture, and the terrace is an Arabian Nights scene with Rajasthani-style sandstone benches, fountains, lanterns and wrought-iron outdoor furniture.

On your way up, you'll find some lovely carved four-poster beds, sofa sets in French and American styles, and fabulous large dining tables. Plus, some atmosphere-defining items like antique trunks, German silver ram-head chairs and a sheesham wood swing.

There are some beautiful showpieces in the Hyderguda showroom, too. If money is no object or if you're treating your home to a special makeover or even if you're feeling starved of beautiful things, Khazana is a treat to nose around at.