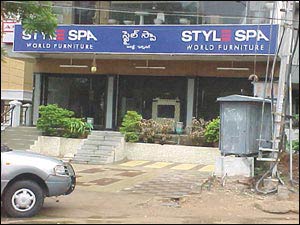 A limited edition outlet of a nationwide chain, Style Spa Hyderabad is deficient in furnishings, office furniture, and the A-Z range available in the other 55 cities. Which means you have to choose from the abridged collection offered to you. Which, we must admit, is not bad at all.

The design at Style Spa leans toward the austere-bordering-on-minimalist, with straight lines and classic contours. The furniture is far from boxy, and is actually quite easy on the eye. There are some neat glass side-tables and half-leather sofa sets. Half-leather is a combination of leather and fabric in muted shades. Style Spa also stocks some bedsheets as a token of its bed-linen collection.

The price range is middle-of-the-road, perhaps a bit towards the higher side. The beds range from Rs. 13,000 to Rs. 37,000, the sofas from Rs. 25,000 to Rs. 39,000, and the dining sets from Rs. 12,000 to Rs. 34,000. The store also offers a warranty of one year, and promises replacement in case of breakage.

If you want to browse through or shop from the complete range, please visit their website.